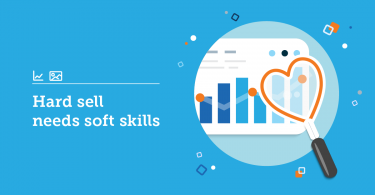 Technology has put product and service information at consumers' fingertips. They're able to Google the lowest price of a service, or the ingredients of a product, watch YouTube videos to learn how to use features, and scan Facebook for reviews from past customers. Which raises the question – what role can a sales team play today?
Read a little further, and you'll find that the role of a sales team is still a big one! It's just, well, softer than before. You see, sales have become less technical and more people-centric. So, to offer prospects the purchasing experience they expect, your team needs essential human skills, like empathy and resilience. Some people have these skills naturally, but soft sales skills can also be taught online.
In fact, the benefits of developing the top soft skills for sales teams have seen many companies increase their investment in training. For example, a recent study found that just an hour of training each month resulted in a 6% rise in revenue for the salesperson.
So, what soft skills should you focus on in sales training and development? Let's take a look.
What are the most important soft skills in sales?
There are many soft skills that you can include in your salesperson training, but we've listed the essential ones for sales teams below.
Communication
Delivering the right message, in the right way, is something that salespeople are expected to do daily. Whether it's answering customer queries in store, or providing a demo to a group of prospects in a webinar, sales staff need to be master communicators. Plus, with an expanding list of communication tools, and a diverse global customer base, sales staff need to adapt their communication appropriately.
So, give your sales team the opportunity to learn and implement communication best practices in different, relatable …continue reading